In one of the weight loss blogs that I follow, "I Lost Big and So Can You", Kristine's boyfriend, "The Steele Project" has created a game on Diet Bet. I had never heard about this before, but it's pretty cool. In the games that I'm signed up for, you bet a certain amount that you will lose 4% of your total body weight in 4 weeks.
There are other types of games, longer one's and just about every amount imaginable. I went with a modest $30 bet. While I'm sure that I can make the bet, I'm also pretty tight with just putting my money somewhere that I'm not familiar.
The games that I joined are called "Self Love and Sweat" and "Spring into a healthier you!".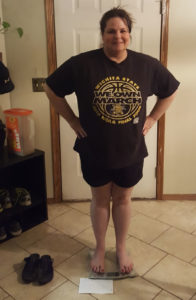 I signed up a couple days before the games started and after paying my money, I had to take two pictures of myself weighing for the initial weight check-in.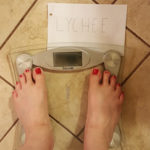 For each game you are given a "challenge word" that you must write down on a piece of paper and have in view in both pictures – here is the first pic and below is the second pic which is a close-up of the scale itself with my weight and the challenge word in clear view.
My first word was "Lychee". What a weird word. How funny though because that is my daughter's favorite gummy candy sold at World Market that I give her every Christmas.
My second word was "Nettles" (which after Googling I found out is a herbaceous perennial flowering plant), but since I signed up for the second game within a day of the first game, I was given the option to use the first weight and pictures which was very handy. There is a companion app that you can download for both Android and iPhone and each game has their own chat room where you can get to know the other players and motivate each other and post status updates and workouts. You can also submit unofficial weigh-in's which can help you stay accountable.
I'm super excited and ready to add another layer to this weight loss journey and road to healthier living!