My family loves Mexican food. And by loves, I mean LOVES, LOVES, LOVES Mexican food. We eat it at least twice a week, if not more. So when I started our family on this new healthy journey, they were very concerned about what would happen to their favorite enchilada dish.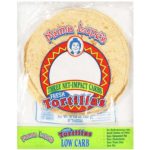 Along the way I've discovered Mama Lupe Low Carb Tortillas and they have truly been a God-send. Even though these are low carb (only 3g net carbs per tortilla!) they taste just like regular tortilla's, no one will ever know they are eating something healthy! Also, they are just 60 calories each! What???!!! Yep. Eat away! I can think of so many uses for these little pieces of heaven… wraps, mini-pizza's, quesadilla's, maybe even oven baked chips! Hum, I need to try that!
I originally calculated this for one serving to equal one enchilada, which makes this recipe for Lightened Up Sour Cream Chicken Enchilada's just 188 calories for 1 enchilada, or 5 Weight Watcher Smart Points. The original recipe, http://allrecipes.com/recipe/16701/sour-cream-chicken-enchiladas/, comes in at 265 calories for 1 enchilada.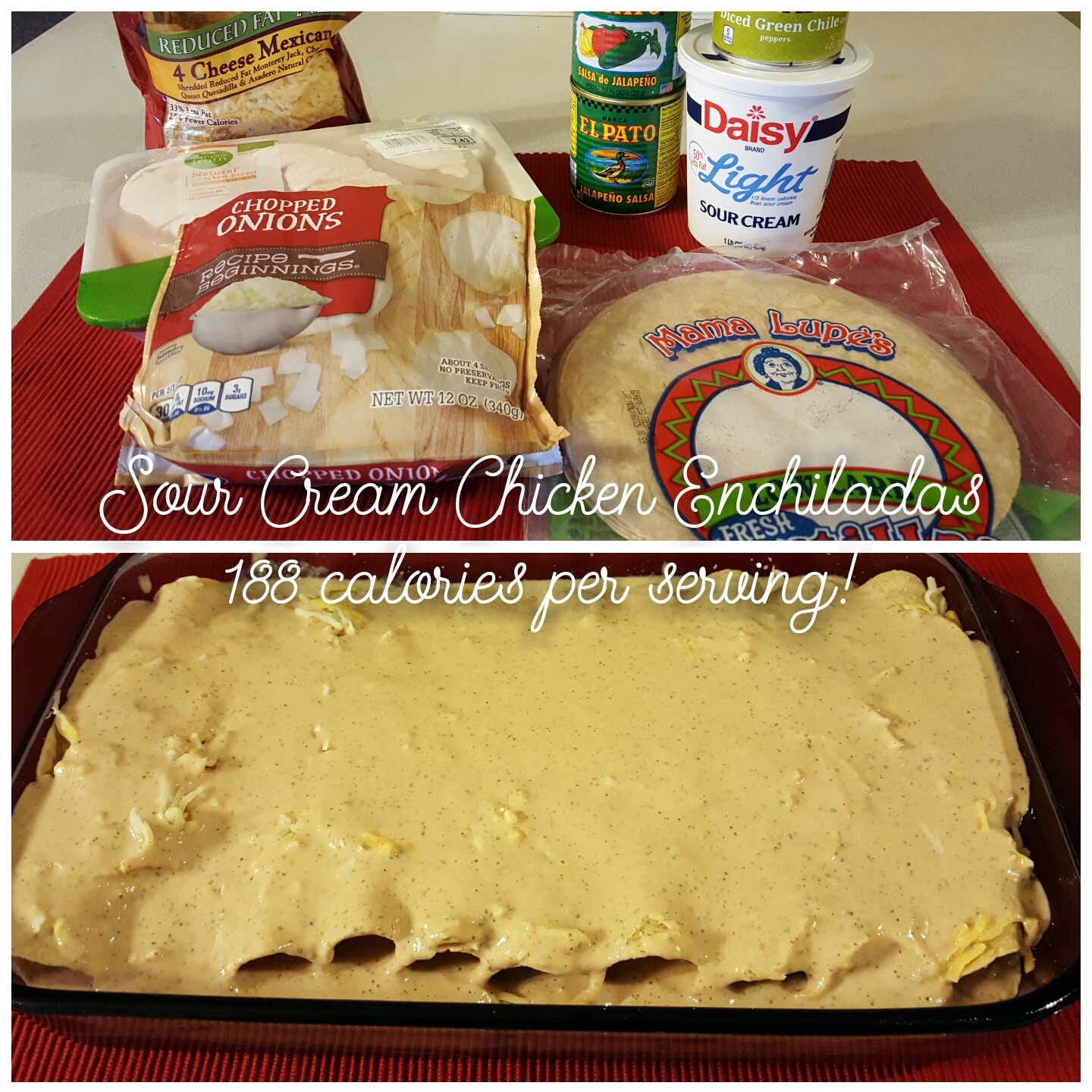 Lightened-Up Sour Cream Chicken Enchilada's
Prep time:
Cook time:
Total time:
This recipe originally comes from Brenda at All Recipes, she says "Shredded chicken, fresh cilantro, green chile salsa and jalapeno salsa flavor these sour cream enchiladas. They are very easy to make, and are for lunch the next day. They are somewhat spicy-hot and full of cilantro".
Ingredients
1 bunch cilantro
1 cup Daisy Light sour cream
2 (7 ounce) cans jalapeno salsa
2 (7 ounce) cans diced green chiles
2 skinless, boneless chicken breast halves, cooked and shredded
1 onion
12 Mama Lupe Low Carb tortillas
2 cups Sargento reduced fat 4 cheese mexican
Instructions
To Make Sour Cream Mixture: In a blender or food processor, puree cilantro, sour cream, jalapeno salsa and 1½ can of the diced green chiles. Set aside.
To Make Chicken Mixture: In a large bowl, combine shredded chicken, onion and the remaining ½ cans of diced green chiles. Mix well.
Preheat oven to 350 degrees F (175 degrees C).
Heat tortillas in conventional or microwave oven until soft. Pour enough of the sour cream mixture into a 9x13 inch baking dish to coat the bottom. Place 2 heaping tablespoonfuls of the chicken mixture in each tortilla, roll up and place seam side down in the baking dish.
Pour remaining sour cream mixture over all and top with shredded cheese.
Cover dish tightly with aluminum foil and bake at 350 degrees F (175 degrees C) for about 30 minutes, or until dish is heated through and bubbling.
Nutrition Information
Yield: 12 servings, Serving Size: 1 enchilada
Amount Per Serving: Smart Points: 5, Calories: 188, Total Fat: 10.0g, Saturated fat: 4.0g, Carbohydrates: 10.3g, Sugar: 2.1g, Sodium: 635.8mg, Fiber: 4.2g, Protein: 18.4g, Cholesterol: 35mg