This week, thanks again to Facebook, I learned about Bountiful Baskets… if you aren't familiar, it's a food co-op program that offers fresh fruits and vegetables. For a small "contribution" you "buy-in" to the weekly share. There are co-ops across the country. It's completely run by volunteers and just a really neat program.
I contributed on Tuesday and we picked up our basket on Friday evening. Since it was our first time, I upgraded our basket to 100% organic, just because I really wasn't sure what to expect and figured at least if it were organic, it couldn't be that bad.
Not only was it not bad, but it was awesome!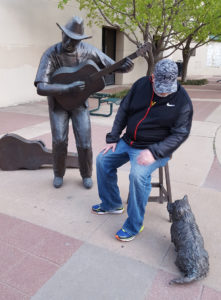 We arrived a bit early, so Greg and I decided to take a brisk walk around Downtown Wichita.
We had to stop along the way for this photo op,  we've got some cool spots down here. This picture was taken in "pop-up park" which is an area where food trucks meet up during the week.
There was some construction so we had to double-back to the co-op location, but it sure was nice to just switch up our route.
When we got back to the location the line actually stretched around the building. Although it seemed chaotic at first glance, it was actually very well run. The line moved quickly and after showing my confirmation email from my smartphone, I was directed to my basket for inspection.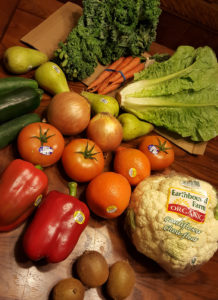 The basket (it was actually a box) was packed full with all organic goodies; 2 luscious bell peppers, the sweetest bunch carrots I've ever tasted, the largest cauliflower I've ever seen, several pears, tomatoes, kiwi, cucumbers, zucchini, some kale and romaine hearts.
I couldn't have been more pleased, especially since I had JUST pinned two cauliflower recipes, one for "Fried Rice" and one for "Breadsticks".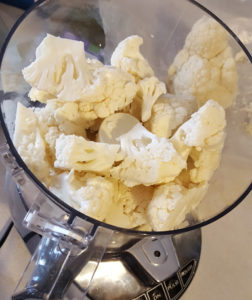 I am FINALLY using my food processor that my grandma gave me for Christmas! It chops up the cauliflower so easily!
The Fried Rice was super delicious. I've never had cauliflower before and I really like it. And my 14 year old son didn't even know he was eating cauliflower with the rice OR the breadsticks!! SCORE!!!
Here's the link if you want to make the Cauliflower Breadsticks and there's the link to the Cauliflower Fried Rice. And, in case you need a new food processor, I recommend the Cuisinart!