No April's fool joke here, I've really never, ever, eaten cauliflower. I smelled it cooking once when I was child visiting my grandmother's farm in the small town of Wellington, Kansas, and since then I've never ever wanted to try anything with the mention of cauliflower in the ingredients.
But last week at my weight loss class at the Y, the girls were talking about different recipes that were made with cauliflower but where you couldn't tell that was the main ingredient.
There was talk of faux-mashed potatoes, cilantro lime "rice" and some fried "not" rice.
Now I love me some Asian cuisine, a lot, and it's mostly because of the chicken fried rice. And we all know that chicken fried rice ain't on any healthy girls diet. At least not us carbs-conscience gals.
So I knew I had to give this dish a try. I searched the web for a detailed recipe and came across one of my most favorites sites for recipes, SkinnyTaste! Gina knows her stuff so I decided to give it a try.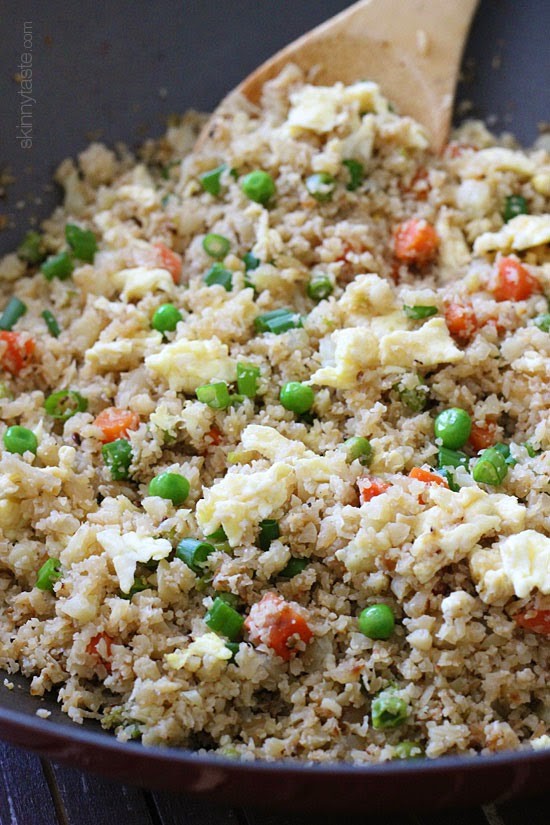 Cauliflower "Fried Rice"
Prep time:
Cook time:
Total time:
So good and flavorful, you won't even realize it's cauliflower!
Ingredients
1 medium head (about 24 oz) cauliflower, rinsed
1 tbsp sesame oil
2 egg whites
1 large egg
pinch of salt
cooking spray
½ small onion, diced fine
½ cup frozen peas and carrots
2 garlic cloves, minced
5 scallions, diced, whites and greens separated
3 tbsp soy sauce, or more to taste (I usd Liquid Aminos)
Instructions
Remove the core and let the cauliflower dry completely.
Coarsely chop into florets, then place half of the cauliflower in a food processor and pulse until the cauliflower is small and has the texture of rice or couscous – don't over process or it will get mushy. Set aside and repeat with the remaining cauliflower.
Combine egg and egg whites in a small bowl and beat with a fork. Season with salt.
Heat a large saute pan or wok over medium heat and spray with oil. Add the eggs and cook, turning a few times until set; set aside.
Add the sesame oil and saute onions, scallion whites, peas and carrots and garlic about 3 to 4 minutes, or until soft.
Raise the heat to medium-high. Add the cauliflower "rice" to the saute pan along with soy sauce. Mix, cover and cook approximately 5 to 6 minutes, stirring frequently, until the cauliflower is slightly crispy on the outside but tender on the inside.
Add the egg then remove from heat and mix in scallion greens.
Nutrition Information
Adapted from Skinnytaste.com
Servings: 4 • Size: heaping 1⅓ cups • Points +: 3 pts • Smart Points: 2
Calories: 108 • Fat: 3 g • Carbs: 14 • Fiber: 6 • Protein: 9 g • Sugar: 1
Sodium: 868 mg • Cholesterol: 47 mg