I admit it. I have a serious weakness for deviled eggs. I can't imagine a summer bbq or pool-side picnic without their presence. But considering our family recipe comes with 150-300 calories per egg, depending on the amount of mayo added, I knew that for my new healthy lifestyle, I needed to find a new "lighter" recipe.
After searching high and low, I came across these super yummy "Clean-Eating Deviled Eggs" from SkinnyMs.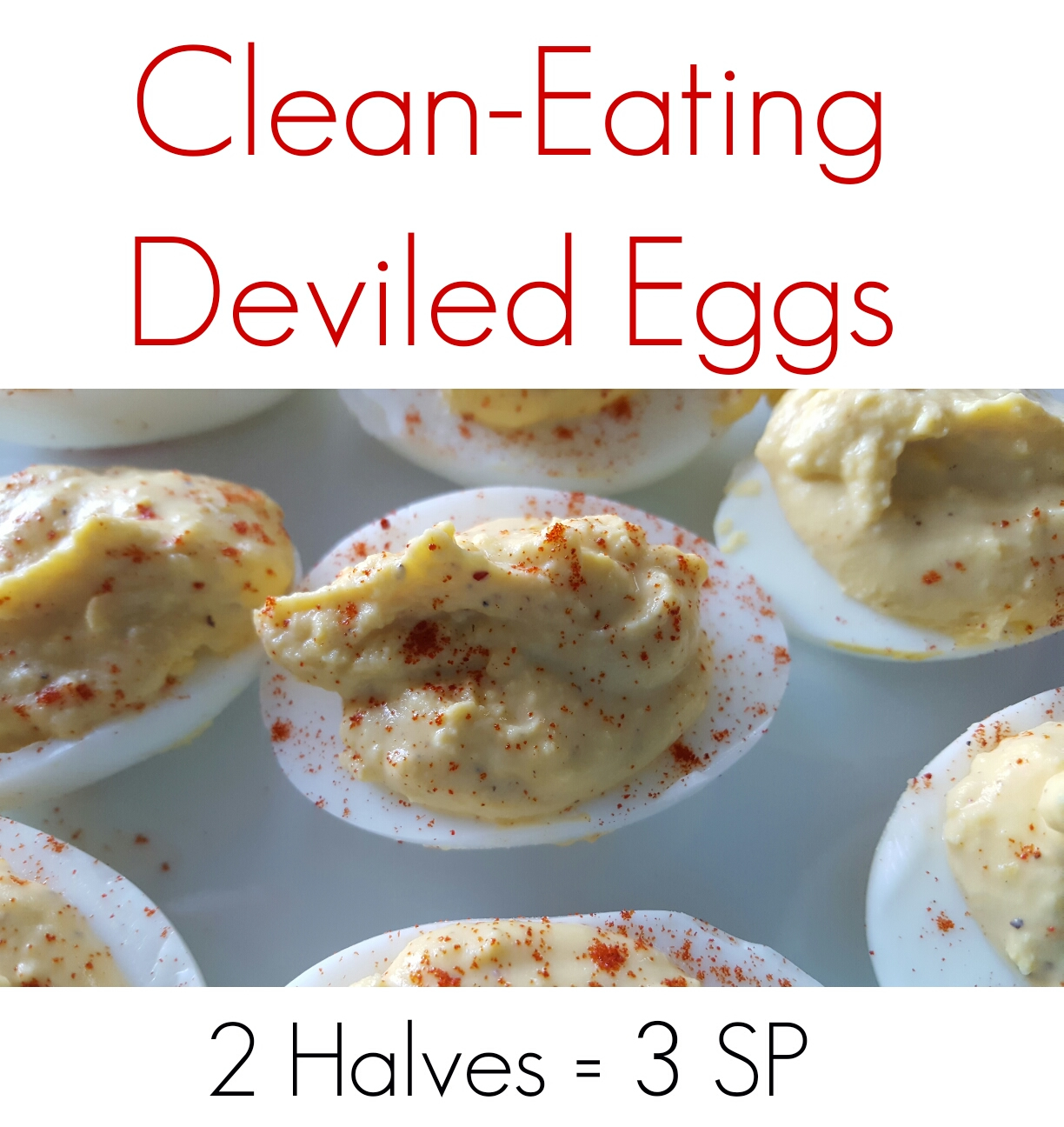 They have just 90 calories (or 3SP) for one egg (both havles)!
The secret is in in the non-fat Greek yogurt in place of the traditional mayo. A little bit of honey is added to sweeten them up just a bit and instead of the vinegar, I opted for my families favorite, sweet pickle juice. No one could tell that these were lightened up and not our usual picnic-fare.

Clean-Eating Deviled Eggs
Prep time:
Cook time:
Total time:
Lightened-up, clean-eating, deviled eggs - no one will know they are any different!
Ingredients
4 large eggs, hard boiled and shells removed
2 tablespoons Greek yogurt, plain, nonfat
1 teaspoon white or cider vinegar, optional freshly squeezed lemon juice (I opted for sweet pickle juice)
1 teaspoon honey (optional, I did use it)
½ teaspoon yellow or Dijon mustard (I used Kroger Dijon)
¼ teaspoon chili powder
⅛ teaspoon black pepper
Dash of cayenne pepper (optional)
Kosher or sea salt to taste
Paprika for garnish
Instructions
Place eggs in pot of cold water - water level should be 1-2 inches above eggs.
Heat to rolling boil and then turn off heat and cover eggs and let simmer for 12 minutes.
Rinse eggs in cold water and peel.
Slice hardboiled eggs in half lengthwise.
Remove yolks, add to a small mixing bowl and mash with a fork.
Combine in a separate bowl the remaining ingredients, except paprika.
Add yogurt mixture to yolks and stir to combine.
Evenly divide mixture inside the egg whites.
Sprinkle with paprika and refrigerate until ready to eat.
Optional add ins: 1 tablespoon diced green onions; 1 tablespoon diced sun-dried tomatoes (packed in olive oil & drained); 1 tablespoon diced pimientos (drained); 1 teaspoon dried diced onion or dried diced garlic.
Nutrition Information
Yields: 4 servings | Serving Size: 1 egg
Amount per serving: SmartPoints: 3, Calories: 98, Total Fat: 5 g, Saturated Fat: 2 g, Trans Fat: 0 g, Carbohydrates: 2 g, Sugars: 2 g, Sodium: 87 mg, Dietary Fiber: 0 g, Protein: 7 g, Cholesterol: 190